WHAT ARE CYANOBACTERIA?
Cyanobacteria or "blue-green algae" are natural inhabitants of many inland waters, estuaries and the sea. In still waters, such as lakes, ponds, canals and reservoirs, they may multiply sufficiently in summer months to discolour the water, so that it appears green, blue-green or greenish brown.
---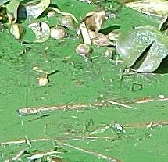 ARE THEY HARMFUL?
Sometimes they produce toxins which can be harmful to man and animals.
In very high concentrations the cyanobacterial blooms float and form a thick blue-green scum.
WHO IS AT RISK?
Recreational water users and livestock farmers, and anyone else coming into contact with infected water.

HOW DO CYANOBACTERIA AFFECT ME?
Cyanobacterial toxins may cause:
skin rashes
eye irritation
vomiting
fever
pains in muscles and joints
long-term ingestion may promote liver diseases
TO BE SAFE, AVOID CONTACT WITH THE SCUM AND THE WATER CLOSE TO IT.

DO NOT EAT CONTAMINATED FISH

Find out more: MINIMIZING THE RISK...
---
Please send comments on these pages to the webmaster
at the Resource Quality Information Services Directorate.
Last update 2015-08-13 11:57